Hello and Welcome to Always Wolves Fan TV website which is the most watched Multi Content Wolves Fan Channel on Youtube.
From Humble Beginnings..
It all began one evening back in 2018, when for some reason I (Dazzling Dave) decided to record my match night experience. I decided to upload it to YouTube for posterity and to my surprise the next day people had watched, enjoyed it and asked me to do another! So I did and from there I developed a real passion for providing content and building an engaged audience. The channel has always centred around me, my 85 year old dad as lifelong Wolves fans and the people we meet along the way. I believe this format has really resonated with fans far and wide by connecting them and seeing a match day through our eyes.
To Present Day…
Now the channel boasts regular features, such as Match Previews, Fan Reactions, Match Day Experience Vlogs, Latest Wolves News & Rumours. More recently we have started our Podcasts and live shows which has turned out to be very popular. We are proud to be a 2 x Finalist in the Football Content Awards for Best Premier League Fan Channel & Best Premier League Podcast. We now have a variety of other Wolves Fans that also contribute as guests on our videos & podcast along with some ex Wolves players and a team of writers producing great articles for the new website. 
The Future..
Always Wolves Fan TV hope to continue to provide engaging family friendly content and we hope that you will come and follow that journey with us. If you have any ideas for additional content or you'd like to get involved feel free to fill in our contact form and get in touch.
Meet
The Always Wolves Team
These are the key people involved with Always Wolves, you will see them regularly on the channel or their behind the camera!
Hello
Dazzling Dave
I'm Dave, a British guy sharing my love of football the mighty Wolverhampton Wanderers FC. I am the Founder & Main presenter of Always Wolves Fan TV, I go home & away following the boys and I hope by following the channel you you will get a fans eye view of what it's like supporting an English Premier League team, Wolves FC. I also enjoy playing 5 aside, tennis, the occasional karaoke, travel oh and nice cuppa!
Hello!
Magic Moss
Maurice is Dave's dad! He's called 'Magic Moss' because his response to how he feels about most things is 'Magic' and Moss is short for Maurice.
Maurice is 85 years old, a lot of the deaf side which can result in some hilarious conversations on the channel.
Maurice has always been a Wolves fan and took Dave to all the games as a child
Hello
Sensational stan
Stan is a relative newcomer to football and only started following the game when he retired! 
He attends all Wolves home games, is a regular on the channel and likes to share his dad jokes with us and the odd pun here and there.
Stan also enjoys the odd pint and is never happier than when he has a project to make something out of nothing.
Hello!
THE PRODUCER
Emma is behind the camera and does a lot of work behind the scenes including jobs like editing the podcasts, social media and the website.
Emma watches Wolves home and away and keeps Dave, Magic and Stan in check! 
Emma is also the HerGameToo Ambassador for Wolves.
Meet
The Pundits
There are lots of people who regularly feature on the channel
Meet
The Web Authors
Meet the team that love to blog and share their opinions on Wolves.
always wolves
Subscribe to Newsletter
Subscribe to our Mailer for all the latest Wolves new, blogs, competitions & offers.
We are probably a bit older than your average football
YouTubers, but that is kinda what makes us unique 

alongside

 our great sense of humour. In short 
we are just ordinary fans who love Wolves and sharing our passion for the team and our thoughts with you!
Our Values
Honest – Family Friendly – Kind – Engaging – Unique – Humorous – Social – Integrity – Community Building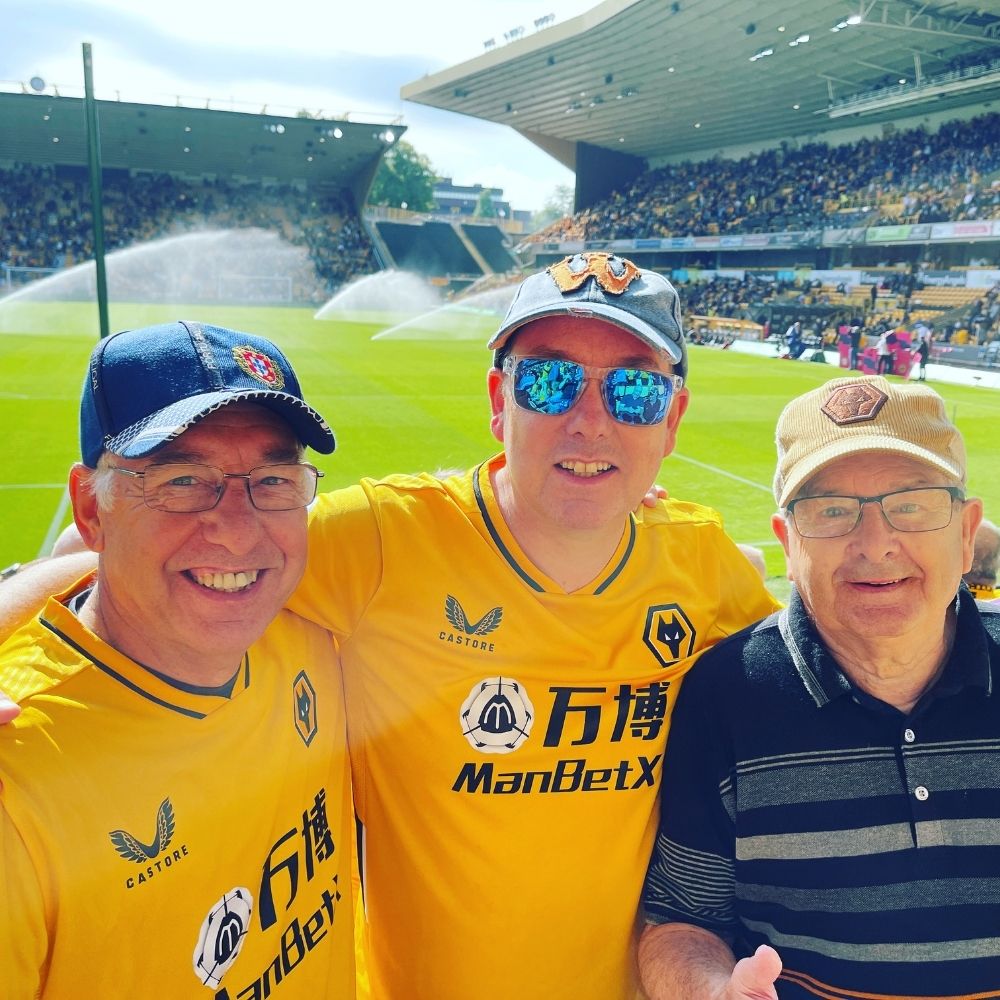 Always Wolves Fan TV work with various sponsors and partners to help them promote their products and services. If you are considering working with us then please get in touch, we will be happy to provide you with a copy of our media pack and discuss this in more detail with you.