wolves are going to win today
"I've kept my silence all this time and I hope it doesn't upset too many people."
I called John at his home in Nottingham and he was the gentleman I expected. John had only given a handful of interviews on his time at Wolves over the last 40 years and had remained tight-lipped and his silence was dignified. John had reportedly, at the time of his departure from Wolves, turned down 'big money' from several national newspapers for his story but on this rare occasion, now the dust had settled, was happy to speak to me about a very happy and memorable time in his life. "I'm speaking to you from my office and my one wall is virtually covered with my memories of my time at Wolverhampton Wanderers." I knew I was in for a treat.
Born in the football hotbed of the North East, John became the youngest player to represent Bishop Auckland. He flew the nest despite being chased by the cream of the clubs in the region and it was the bright lights of London that secured his services as he signed for Arsenal, initially on amateur forms and on a professional contract in 1957. "My father told me that I was to only go to a club that looked after me off the pitch as well as on the pitch and it was Arsenal that pestered my parents the most! I initially stayed on amateur forms as I wasn't sure if I could settle in London."
Over 150 games for the mighty Arsenal encouraged a move to Nottingham Forest in 1964 where he represented the East Midlands club on over 200 occasions. John had clearly settled in the professional game at a time where a wage cap was in place and where the best talent didn't always get remunerated duly for their efforts.
So, did John envisage crossing the line into management when the curtains were drawn on his professional career in 1970? "No, never," he replied. "I had no intentions of becoming a manager. It was my Arsenal coach Ron Greenwood that was the first coach that interested me and excited me. I learnt so much from him and so, if I was to stay in the game it would have been as a coach."
John cut his teeth at London Road, Peterborough, and became manager upon invitation. "I had taken over from Noel Cantwell after starting out as his head coach. The Peterborough board then offered me the job as manager after Noel went to manage the Boston Tea Men who had been rehoused in Florida."
A successful yet short stint at Peterborough ended acrimoniously with Barnwell attracting the interest of the men from Molineux. "I had a difference of opinion with the board and I had a verbal deal with them which they reneged on. Although the club didn't have any money I could use the money from players which I had sold to reinvest. We missed out on promotion by one point so I sold Chris Turner to David Pleat at Luton Town for £110,000.
"We had the money up front which was rare back then and I told the board my intentions of what I would be doing with the money and they said all that was available was £15,000. I had sold my best player so I had a massive fallout and told them in no uncertain terms that they had until Monday to make their minds up or find themselves a new manager. I then got a phone call from the Blackburn Rovers chairman who had been given permission to speak to me so Peterborough's intentions were now clear.
"I told Blackburn I wanted to think about it and in the meantime I had a phone call from 'The Sun' newspaper asking if I would be interested in the job at Wolverhampton Wanderers. It was a Friday night, I met the Wolves board on the Sunday and agreed to join them on the Monday!" Rumour has it that John went to watch his Wolves side on the Saturday, incognito and sporting a cloth cap in the gabled Molineux Street stand to understand what he was walking into.
Taking into consideration that John didn't want to manage at all, he was now at the helm of a huge club but he too could have crossed the Atlantic for pastures new. "Wolves were a big club so it excited me. I also had an offer from America to manage Philadelphia Fury who were owned by The Rolling Stones! I met with their manager Peter Rudge in London but the Wolves were at the door. It was a fantastic offer and there was only one answer to this one."
The hungry Wolves had turned John's head from a potential rock and roll lifestyle…to a relegation battle. John had taken over from Sammy Chung with Wolves languishing second from bottom in the league during the 1978/79 season. Barnwell did his job and steered the club to 18th position, avoiding the dreaded drop.
"I'd seen a team who had been up and down a couple of times with some of the same players. When you looked at the quality of the team you had to wonder why? They had two super full backs in Geoff Palmer and Derek Parkin, another great defender in John McAlle and excellent players in midfield with Kenny Hibbitt and Willie Carr. There was an out and out striker who would have got into any other club's side in John Richards but I knew that something wasn't quite right here."
John knew what he had to do and went about his business consummately and quietly. "I did not pass comment on how the club had deteriorated and why they had been up and down twice or throw any arrows at former managers. I just looked at it that we are going to play our way out of this and told the players that if they don't want to join on this way of playing to tell me now and you can leave the club." Barnwell had set his stall out and the players knew it was fight or flight.
"I have to say as a group they applied themselves terrifically and we got them on the right road. I knew I needed a coach to help me out, not an assistant manager but a head coach. I had a list of four and I went through them all and one was Richie Barker and I discovered that Wolves had already interviewed Richie Barker for the job!"
I reminded John of the song: 'Johnny Barnwell, Richie Barker…one wears a sheepskin, the other wears a parka!' He remembered it well and chuckled as I belted the rendition out.
"I persuaded Richie to come on board, we reached agreement and had a terrific relationship," John recalled. John and Richie had a big job on their hands and they had to find form, and fast. "When you are losing football matches it becomes a feeling that you aren't going to win matches, but when you start to win you don't think you are going to lose. The whole thing turned around in a very short space of time and we survived that season. When I joined them I looked at the points needed for survival and it meant we had to play top six form for the rest of the season and that's what we did."
The following season Wolves, against the odds, made the FA Cup semi-final and, of all clubs, faced Arsenal. "It was a massive disappointment to lose but there's an old saying people don't remember the players who finished second. The mood in the camp was terrific, we were underdogs on the day and they were the better side but it gave us a yardstick of what we could achieve."
During the latter part of the campaign John had suffered terrible injuries as the result of a major car accident. It was to be a huge blow for Wolves. "I was at a Cancer Research dinner in Retford that my wife had organised and it was on a Saturday night after we had played. We were due to play Derby County on the Monday night and if we had beaten them we would almost certainly stay up. After the crash I don't remember anything for three months.
"It happened as after the dinner I decided to travel back to Wolverhampton due to the worry of the Derby game and the importance of it. I got in the car and it was a wet night. I got told by the police sometime after that there were skid-marks on the road, perhaps veering away from another vehicle. I had gone straight into the bollards on the roundabout, smashing my head on the windscreen and fracturing my skull. The strange thing is now, every time I go down the A38, I come to that roundabout and I try to remember what happened.
"I relayed this to the police who two years later were following up what had happened with the crash. A hundred pounds of cash had mysteriously gone missing from my pockets which wasn't highlighted straight away. I asked what had happened to the money when I realised it had been taken and the policeman said that they thought they would never see me again. It was a bad time. My parents took me back up to Newcastle to look after me and my father used to take me down to Tynemouth beach for walks in the morning…and I can't remember a thing!"
There was a sad undercurrent that John was doing something positive for others at a charity function and the events of that evening sadly took a turn for the worse. Fortunately, he lived to tell the tale.
John was keen to return to Wolves but it wasn't in his best interests. "I went back to the club too early. Pre-season had not been going well and I wasn't allowed back into football until the specialist had said so. There were two very good directors at Wolves at the time who put drivers on for me and really looked after me. We were playing away and I had been driven down to the game and at half time I walked into the dressing room. We were 1-0 down. Richie or none of the players knew that I was coming and I walked in there to everybody's surprise. We won the game and I was persuaded to come back full time."
Was it too much, too soon for the manager to be back in the pressure cooker that is league management? "Yes, it was too soon. The crash had taken its toll on my body and my mind and I think that some of my decisions became quite erratic." There was a huge piece of business on the horizon at Molineux that John had to deal with and it would create significant waves in British football. "Malcolm Allison approached me from Man City about (Steve) Daley. I believed at the time he was getting tapped up by Noel Dwyer who was a former goalkeeper at Wolves and had been at West Ham with Allison. I don't have first-hand knowledge of this but I assumed he was the go-between. I didn't want to sell Steve as he was a real talent and a smashing lad, but I wasn't sure of his best position.
"Eventually he left. One of my agreements with Harry Marshall previous to this had been how much money I had to spend. I was told £200,000 which was a lot of money but not a huge sum and I remember this very clearly. After taking over and surviving with what wasn't a very big squad we knew we had to strengthen in the transfer market. There weren't many talented young players coming through, with the exception of Wayne Clarke and Colin Brazier who were very good players.
"If I sold players though, I could have the money to re-invest and that was his word. Little did they think I would sell a player for £1,150,000 plus VAT! When I sold Daley I met the chairman and shook his hand and told him that I needed an extra £25,000 to add to that money as I had agreed to sign Andy Gray for £1,475,000 three days later. He didn't shake my hand on that but he didn't renege on the agreement that we had. Whilst I had disagreements with Marshall later on, most of the things he did were financially for the benefit of the club."
The Daley/Gray transfer merry-go-round proved to be a shrewd piece of business for Wolves. Sadly, the move didn't work out for Steve Daley, but the incoming striker Andy Gray went on to score the winning goal in the 1980 League Cup Final and repay a healthy chunk of the outlay.
The 1979/80 season was arguably Barnwell's finest hour. A sixth place finish coupled with silverware for the sparsely filled trophy cabinet. Barnwell's army arrived at Wembley on the 15th March, 1980, as underdogs as John pitted his wits against Brian Clough's European champions and inevitably, went on to haunt his former club. "The team-talk was easy. In actual fact, I have kept most of this to myself over the years because I didn't believe there was any mileage in disturbing or upsetting people and I learnt that from the best manager Wolves have ever had. Stan Cullis."
Stan Cullis, whose famous quote 'You only have the one life, and I gave mine to Wolves' was testament that he bled gold and black, and he had some wise words for John Barnwell. "I had a very private letter off Mr Cullis the details of which I will not reveal. He deliberately said he would not come near the football club to disturb the manager and I will remember those words."
John also sourced the inside knowledge of another football legend in an attempt to gain advantage at Wembley. "I spoke with Bill Shankly when I was trying to get Emlyn (Hughes) in and he persuaded him to sign for us. I used to ring him up and he would come down to the Castlecroft training ground once every five to six weeks unannounced. If you'd have let him he would have taken over! I got to know him quite well and as he had great experience as a manager taking teams to Wembley I leaned on him for knowledge and he told me: 'Son, remember this. A man will come in the dressing room and he's a nuisance. He's there for a reason, he's there for television and he's trying to get you out on the pitch far too early. You tell him to clear off.'
"Well, it happened. He knocked on the door. 'Mr Barnwell, we're ready for you.' 'When we are ready we'll be out,' I replied. I sat the players down and said 'look, we are going to make Mr Clough wait in the tunnel'. They were all laughing and it settled the nerves. Then there was a knock on the door again. 'Mr Barnwell, we must have you'. There was laughing and joking in the dressing room and it took the8 pressure off. I told the players that we had better go now and we went out into the tunnel and Cloughie and Peter Taylor weren't there – they had already cleared off. If you look back at the footage Jimmy Gordon, their physio led the team out. When we sat down, Cloughie came over and said, 'Eh Barney, enjoy the day'. I told him I'd enjoy the day and I hoped he did too…and that's the last we spoke for six months!"
The class of 1980 had emulated the class of 1974 in winning the League Cup. I asked John if having four of the team from 1974 had helped or added a further weight of expectancy on the day?. "Not really, it helped as it was still in the memory of those players. We went into the game as underdogs and very few said we had any chance. We set a plan to stop John Robertson who in my opinion was their most dangerous player. He would beat players and get balls into the box so if we could protect ourselves against him having too much of the ball we would eliminate part of their game. That's why we played Peter Daniel on the right and Kenny Hibbitt in the inside forward position. Richie Barker was keen to put Daniel in midfield, we discussed that till the early hours of the night before the game and in the end I decided not to and it worked out for us."
It was bringing back great memories for John. "I've watched the video of the game twice in 40 years and I don't remember much of it. I remember the goal of course!" There was a gameplan which they had adopted which they would once again use to their advantage on that magical day beneath the twin towers. "We were very capable of defending a winning position, get in front then keep the ball in their half was the aim," said John, "We worked exceptionally hard when we lost the ball and we used a strategy called 'changing hands'. If there was a goal kick, a throw in, a corner, we would get our players in position as quickly as possible and we became excellent at that, particularly in cup matches. If you look back at those three years of cup football at Wolves there were two semi-finals, a League Cup win and a fifth round tie where Watford knocked us out. I'll never forget that as we sold Martin Patching to them!"
The 1980 League Cup, to this day, is still the last major trophy that Wolves have won and I could sense the pride from John. "It's a big club with wonderful supporters. Emlyn Hughes had won everything at Liverpool apart from the League Cup so I asked him afterwards, 'what's that like for you'?"
John Barnwell, the man who had masterminded the victory, was receiving praise of his own from a Wolves messiah, but quickly deflected it. "Stan Cullis was interviewed and he was very careful with his words and one of the things that pleased him was the manager John Barnwell didn't run on the pitch jumping up and down in the air." That was never going to happen. Wolves had always carefully selected their managers and dignity was a pre-requisite. John put any doubt of that to bed. "It was a day for the players," he said.
We all remember the song, 'Wonderful Wolves'. 'Barnwell's army's here to stay… Wolves are going to win today!' It was never in doubt and it was music to the travelling supporters' ears who were keen to rekindle the spirit of '74.
Doubt did however start creeping in the following season of 1980/81, a faltering league campaign which culminated in an 18th place finish. There was also an FA Cup semi-final showdown with Tottenham which saw a 2-2 draw at Hillsborough after a hotly disputed last minute penalty for Wolves. That took the tie to a replay at the neutral ground Highbury in which Wolves suffered a 3-0 defeat and Spurs went on to lift the trophy. "I was very angry about that. Playing in North London was so biased and in favour of Spurs it was untrue. It gave them a huge advantage. We had picked up a couple of injuries from the first game and I felt that there wasn't much in between the sides. A couple of players in the right areas would have got us there but I don't want to go into that."
Throughout the interview John was very careful with his words and that really was the mark of the man who had seldom given an interview. If you look at John's time in charge, the rot had stopped setting in and success was brought back to the club almost instantaneously. If John had got his targets, we can only but wonder where we would have ended up. "The better players that I inherited were at the back end of their career and now they were three years older. There were various quality players that we were a long way down the road to signing."
When John started giving me the names I was as amazed as I was disappointed that we never clinched the deals. "Michel Platini, he was one. He had a fractured leg so it didn't happen. The one that went on far too long was Peter Reid and he eventually went to Everton with Andy Gray and they won the league. The other one we could have got was an exceptionally talented player, 'Zibi' Boniek. We could have got him for 200,000 dollars. He was 27 and eventually went to Juventus for one million pounds, and Platini joined him! They were quality players at the right age but that linked in with, did we have the money? That was when interest rates on money borrowed was over 17% for the re-building of the stadium, which I was not kept in line with. The interest on the money borrowed to build the stand started sending things backwards." John remained dignified. More about the aftermath of that story later in the book.
Sadly, John resigned later that season which inevitably ended in relegation. How disappointed was he to leave a club where he had restored so much pride? "I was in a situation where I couldn't see things progressing on the pitch for obvious reasons. My first thing with the board was, history told us at that time that clubs who restructured their stadiums fell into at least ten years of decay and financial disarray. The answer that came back was the work on the redevelopment was self-funding. What could I do as a manager about that?. (Harry) Marshall saw that the only way out was to sell players and behind my back he tried to do a deal with Leeds United to sell Andy Gray and I had quite serious words with Allan Clarke. I remember asking Marshall what money I would have available if I sold Gray and he told me: 'nothing.' The financial woes began.
"I told myself, there's only one way this is going John so get out of this with as much dignity as you can. The way the clubs are run now is totally different. It's a glib statement but I have never seen spectators pay money to watch a stand!" John clearly wanted the best for the club and it had broken his heart to leave. "I had a wonderful four years at the club."
Upon John's departure amid a barren spell of picking up points, Wolves recorded an eight-match losing streak which remains an unwanted record to this day. We did have a shiny new stand though although it would prove difficult to populate.
I asked John what is was like for him to then watch from afar, the decline of the club he was once so proudly steering. "I can't put it into words and I had to distance myself from all of that as I could have no effect on it. The board did what they thought was right for the club but it wasn't right for the football side of it."
John's wisdom was evident throughout the interview and, at 81 years of age, I asked him to cast his mind back to give me one abiding memory of his time as proud manager of Wolverhampton Wanderers. "The winning of the League Cup is what I am most proud of. I am in my office now, looking up at a picture of me playing for Arsenal at Molineux and there is the stand in the background with its tiered roofing. It's 1960 and I am clear on goal, the time on the old clock is 4.20pm and I am scoring against Wolves. I have a picture alongside it in the same goalmouth in 1980 with the new stand behind me and I am leaning on the goalpost." Two contrasting pictures, two different structures, one amazing story.
John had given the Wolves supporters so many fantastic memories from his time at the club and the words of our Wembley song still ring true and we couldn't have been in any better hands.
'Wonderful Wolves winning all the way. Wonderful Wolves you're gonna win today. Play at home or play away, Barnwell's army's here to stay… Wolves are going to win today.'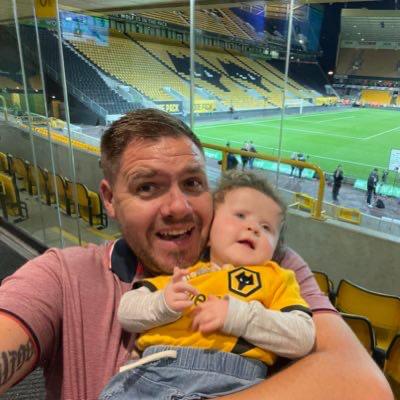 ARTICLE COURTESY OF JASON GUY FROM HIS BOOK TALES FROM THE TAPE VOLUME I